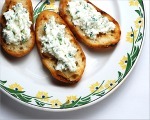 Prep: 15 min
Cook Time: 50 min
Total: 1 hr 5 min
Serving: Serves 4 people
Roasting garlic brings out its mild flavor. Your guests will appreciate the delicious taste of Roasted Garlic Crostini.
Ingredients
2 garlic bulbs
4 tablespoons olive oil
3 tablespoons water
1 sprig of rosemary
1 sprig of thyme
1 bay leaf
Salt & pepper to taste
Sliced French bread
6 ounces goat cheese
2 teaspoons chopped fresh herbs (parsley and chives)
Directions
Preheat your oven to 375 degrees F. Put the garlic bulbs in a baking dish and drizzle with 3 tablespoons of olive oil and the water. Add the rosemary, thyme and bay leaf and sprinkle with salt & pepper to taste. Cover with foil and bake for 30 minutes.
Remove the foil and baste the garlic with the juice from the dish, and bake for another 20 minutes, until garlic becomes soft.
Add 1 tablespoon olive oil to a saute pan and fry the French bread on both sides. Blend the goat cheese with the mixer herbs and place in a serving dish.
Cut each garlic bulb in half and open them up slightly. Serve the garlic on small plates along with the goat cheese mix and French bread. Garlic should be spread on top of the goat cheese.