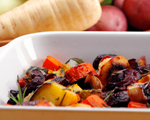 Prep: 30 min
Cook Time: 50 min
Total: 1 hr 20 min
Serving: 6 Servings
The perfect way to enjoy fall's bounty, you can also grill the vegetables on your barbeque for a smokier flavor.
Ingredients
1 pound carrots, cut into 1-inch pieces
1 pound parsnips, cut into 1-inch pieces
1 pound Brussels sprouts, halved lengthwise
1, 2-1/2-pound butternut squash—peeled, seeded and cut into 1/2-by-1 1/2-inch pieces
2 large shallots, cut into 1/2-inch wedges
6 thyme sprigs
1/2 cup extra-virgin olive oil
Salt and freshly ground pepper
1/4 cup plus 2 tablespoons pine nuts
1 tablespoon unsalted butter
2 large garlic cloves, thinly sliced
1/4 cup freshly grated Parmesan cheese
Directions
Preheat the oven to 425 degrees.
In a large roasting pan, add the olive oil to the carrots, parsnips, Brussels sprouts, butternut squash, shallots, thyme sprigs. Toss to coat vegetables thoroughly.
Place the pan in the oven and roast the vegetables for 50 minutes, stirring occasionally.
Meanwhile, in a small sauté pan, heat the oil over medium-high heat until hot but not smoking. Add the pine nuts and toast for 2 minutes and then mix in the butter and garlic, and cook for an additional 2-1/2 minutes. Set aside to cool.
Once pine nut mixture is cool, place in a food processor and add the cheese, 3 tablespoons of oil and a sprinkle of salt. Process until pesto is smooth and thick.
Remove the vegetables from the oven and empty in to a large bowl. Toss the vegetable with the pesto and serve warm.