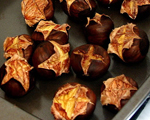 Prep: 15 min
Cook Time: 15 min
Total: 30 min
Serving: Makes 4-6 servings
Roasted chestnuts are a delicious addition to any stuffing, but can also be enjoyed alone with a glass of Merlot.
Ingredients
1 pound chestnuts
1 teaspoon olive oil or butter
Directions
Preheat the oven to 400 degrees.
With a sharp, pointed knife, make two gashes in the shape of an X on the flat side of each chestnut, and then place in a large pan over high heat.
Drizzle the oil or butter over the chestnuts and shake the pan until the chestnuts are coated.
Place the pan in the oven and cook until the shell and inner skin start to peel off and can be removed easily.
Remove from the oven and peel off the inside skin while the chestnuts are warm.