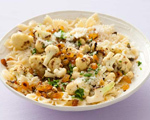 Prep: 15 min
Cook Time: 35 min
Total: 50 min
Serving: 6 Servings
Roasted cauliflower adds delicate texture and flavor to this classic Italian farfalle dish. Serve it sprinkled with some authentic Parmesan cheese and a few grinds of freshly ground black pepper.
Ingredients
2 pounds cauliflower, cut into 1-inch pieces
Sea salt and freshly ground black pepper
1/2 cup extra-virgin olive oil, divided
2 garlic cloves, finely chopped
1/3 cup (2 ounces) golden raisins
3 tablespoons brined capers, drained
2 tablespoons red wine vinegar
1/2 cup chopped flat-leaf parsley
1 cup grated Parmesan cheese
3/4 pound dried farfalle
Directions
Preheat your oven to 450 degrees.
Place the cauliflower into a large bowl, drizzle with 2 tablespoons of olive oil and then sprinkle with some sea salt and fresh pepper. Toss to combine and then transfer to a baking sheet.
Put the cauliflower in the oven for 35 minutes or until tender and lightly browned.
Place the remaining oil into a large sauté pan over medium heat and add the garlic, raisins, and capers. Sauté the mixture until the garlic is fragrant and then add the vinegar and the cauliflower.
In the meantime, cook the pasta al dente according to package directions, drain (reserving 1/3 cup cooking liquid) and return to the cooking pot.
Place the cauliflower mixture, reserved cooking liquid, parsley, cheese and a pinch of salt and pepper into the pot with the pasta, and toss the mixture to combine. Serve immediately.