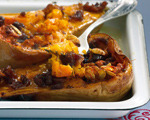 Prep: 5 min
Cook Time: 15 min
Total: 20 min
Serving: 4 Servings
Cracklings are rendered pieces of either pork or poultry fat. Popular in Southern cooking, they add delicious, rich flavor to a dish.
Ingredients
2 butternut squash, skin and seeds intact
1 cup cracklings
Sea salt and freshly ground black pepper, for seasoning
Directions
Preheat your oven to 350 degrees and line a baking sheet with parchment paper.
Put the butternut squash halves onto the prepared sheet and then sprinkle with a few pinches of salt and pepper. Top with the lamb cracklings, and then place the squash in the oven for 15 minutes until soft and light brown in color.