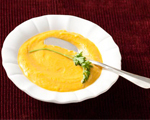 Prep: 15 min
Cook Time: 15 min
Total: 30 min
Serving: 4 Servings
Roasting the butternut squash first brings out additional sweetness and flavor.
Ingredients
1 tablespoon unsalted butter
1 large onion, chopped
1 large garlic clove, finely chopped
sea salt
freshly ground black pepper
1 quart low sodium chicken broth or vegetable broth
8 (6- by 2-inch) roasted butternut squash wedges, skin removed
1 cup heavy cream
parsley leaves to garnish
Directions
Place the butter in a pot over medium-high heat.
Once hot, add the onion and the garlic and sauté for 5 minutes then sprinkle with salt and pepper.
Pour in the chicken broth and then add the squash to the pot and bring the mixture to a boil. Cook for 10 minutes and then carefully transfer the hot mixture to a blender or food processor.
Process the mixture until smooth, and then transfer back to the pot.
Add the cream and another pinch of salt and pepper and stir to blend. Serve the soup hot garnished with the parsley.