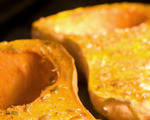 Prep: 5 min
Cook Time: 45 min
Total: 50 min
Serving: 2 Servings
Butternut squash is first and foremost healthy and extremely delicious. It also makes a wonderful side dish when roasted with a few pinches of brown sugar, salt and pepper, and a drizzle of fresh orange juice.
Ingredients
1 butternut squash
2 tablespoons extra virgin olive oil
Generous pinch salt
Few sprinkles of black pepper
1 packed Tbsp brown sugar
4 tablespoons fresh orange juice
Directions
Preheat your oven to 400 degrees and line a baking sheet with aluminum foil.
Using a sharp knife, cut the squash in half and then scoop out the seeds with a spoon.
Transfer the cleaned squash halves to the prepared baking sheet and pour the orange juice into the shallow indentation where the seeds were. Sprinkle the entire top of the squash halves with salt, pepper and sugar and then place in the oven for 45 minutes or until a knife easily slides into the squash when punctured.