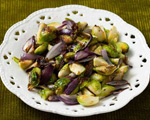 Prep: 10 min
Cook Time: 20 min
Total: 30 min
Serving: Serves 12
These roasted Brussels sprouts are accentuated by fragrant hints of fresh rosemary and the sweet taste of red onions.
Ingredients
1-1/2 pounds Brussels sprouts, trimmed and halved
4 small red onions, cut into wedges
2-1/2 tablespoons olive oil
2 tablespoons chopped fresh rosemary leaves
1 teaspoon sea salt
1/2 teaspoon freshly ground black pepper
1 tablespoon apple cider vinegar
Directions
Preheat the oven broiler to 425 degrees.
In a large bowl, toss the sprouts, onions, olive oil, rosemary, salt and pepper together unitl coated, and then transfer to a large baking sheet.
Place the sprout mixture into the oven and roast for 20 minutes, turning occasionally.
Transfer the Brussels sprouts to a serving bowl and add the vinegar and an extra pinch of salt and pepper to taste. Toss to combine and serve.