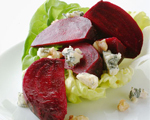 Prep: 25 min
Cook Time: 1 hr
Total: 1 hr 25 min
Serving: 4 People
Elegant, light and delicious, this salad combines the sweet and earthy flavor of roasted beets with a smooth and creamy dressing made from sour cream. An impressive dish for entertaining and an easy dish to prepare.
Ingredients
2 medium beets
2 tablespoons grated onion
1 tablespoon sugar
5 cups torn red leaf lettuce or Boston lettuce leaves
2/3 cup sour cream
1 tablespoon red wine vinegar
1 tablespoon Dijon mustard
2 tablespoons coarsely chopped walnuts, lightly toasted (optional)
Directions
Preheat oven to 400 degrees.
Remove any greens from the beets and cut off and discard any stems. Rinse off any dirt or debris from the beets.
Drizzle beets with oil and then wrap tightly in foil. Roast for approximately 1 hour, or until tender.
Cool the beets and then peel. Coarsely shred beets and put aside.
In a medium-sized bowl, whisk together the sour cream, onion, vinegar, sugar and mustard. Add salt and pepper and season to taste.
Place lettuce leaves on 4 individual plates and then top with equal amounts of shredded beets. Spoon dressing over salad and garnish with toasted walnuts.