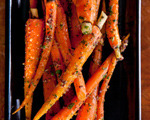 Prep: 10 min
Cook Time: 15 min
Total: 25 min
Serving: Makes 2-4 servings
Roasting these baby carrots brings out their natural sweetness which means there is no need to add additional sugar. Enjoy them as a side to lamb, pork or poultry.
Ingredients
1 pound baby carrots (about 2 bunches), green stems trimmed to 1/2 inch, and carrot tips removed
2 teaspoons olive oil
Sea salt
Freshly ground black pepper
1 tablespoon unsalted butter
2 teaspoons coarse-grained mustard
1 tablespoon coarsely chopped fresh herbs, such as dill, parsley, chives, chervil, or tarragon
Directions
Preheat your oven to 450 degrees.
Put the carrots into a baking pan, drizzle with the olive oil and then sprinkle with a few pinches of salt and pepper. Toss the mixture well to coat and then place in the oven for 12 minutes, stirring the carrots every 5 minutes to ensure even cooking.
Place the butter into a large sauté pan over medium heat. Once it begins to foam, add the mustard and whisk until completely blended. Add the cooked carrots to the pan, along with the herbs, and toss the mixture to coat. Serve immediately.