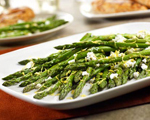 Prep: 20 min
Cook Time: 20 min
Total: 40 min
Serving: 6 Servings
An elegant side dish that pairs well with most main courses, enjoy asparagus while they are in season from mid-April to the end of June.
Ingredients
vegetable cooking spray
2 pound asparagus , trimmed
1-1/2 tablespoons olive oil
Sea salt and freshly ground black pepper
1/2 cup Vegetable Broth
3 ounce soft goat cheese, crumbled
1 tablespoon lemon juice
1 teaspoon grated lemon peel
Directions
Preheat the oven to 425 degrees, and spray a roasting pan with cooking spray.
Place the asparagus in the prepared roasting pan and drizzle with the olive oil. Pour in the broth and season the asparagus with salt and freshly ground pepper.
Place the pan in the oven and roast the asparagus for 20 minutes, stirring twice.
Transfer the asparagus to a serving platter and top with the crumbled cheese, lemon juice and the lemon peel. Serve warm.