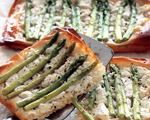 Prep: 10 min
Cook Time: 12 min
Total: 22 min
Serving: 4 Servings
This simple appetizer looks significantly more complicated than its 10 minute prep time suggests. You can also use ricotta cheese, instead of the goat's cheese, or top with freshly shaved Parmesan.
Ingredients
4 sheets filo pastry
Olive oil
2 cylinders goat cheese
1 bunch slender asparagus tips, trimmed
Salt and freshly ground black pepper
Directions
Preheat the oven to 400 degrees and line a baking sheet with parchment paper.
Thoroughly brush the filo pasty sheets with olive oil and then carefully fold into rectangles. Transfer the filo to the prepared baking sheet and then top with the goat cheese and the asparagus.
Sprinkle each tart with a few pinches of salt and pepper, and then drizzle with additional olive oil. Place the tarts in the oven for 10-12 minutes and then serve hot.