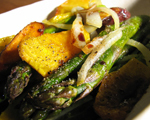 Prep: 4 hr
Cook Time: 1 hr
Total: 5 hr
Serving: 4 Servings
Roasted vegetables side wonderfully with a main protein dish of chicken, beef or pork, as roasting brings out a sweeter, more caramelized taste.
Ingredients
1 bunch golden beets
1 bunch spring onions
2 cloves garlic, minced
1 bunch asparagus
2 tablespoons olive oil and 1/4 cup
Sea salt
3 tablespoons sherry wine or red wine vinegar
Freshly ground black pepper
1/4 cup fresh orange juice
Directions
Preheat the oven to 400 degrees.
Scrub the beets and trim the stems leaving about an inch and then wrap in aluminum foil. Fill a roasting pan with 1 cup of water, add the beets and roast for 1 hour.
Meanwhile, wash and chop the spring onions and remove the woody ends of the asparagus by bending the asparagus until it snaps; cut asparagus into 2-inch pieces.
Take the beets out of the oven and allow to cool. Remove the skin and chop into wedges. Set aside in a bowl.
Increase the oven temperature to 450 degrees.
Put the asparagus, garlic and onions on a baking sheet and brush with 2 tablespoons of olive oil. Roast the vegetables for 18 minutes, flipping once about a quarter of the way through the cooking time. Remove from the oven and set aside in a bowl.
Pour the 1/4 cup of olive oil and the vinegar in a small bowl, add a pinch of salt and pepper and whisk well. Divide the dressing in half and pour into the bowl with the asparagus and the bowl with the beets. Cover each bowl and marinate in the refrigerator for at least 4 hours.
Remove bowls from the refrigerator; drain the beets and place in a serving bowl with the asparagus. Pour in the orange juice, sprinkle with salt and pepper to taste and lightly toss.