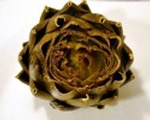 Prep: 10 min
Cook Time: 1 hr
Total: 1 hr 10 min
Serving: 1 cup of sauce and 1 roasted artichoke
If you are in a hurry but want a delicious, homemade appetizer, look no further than this garlic roasted artichoke with red roasted aioli. Not only do they sound expensive and labor intensive, they taste that way too!
Ingredients
1 whole artichoke
2 tablespoons of extra virgin olive oil (separated)
1 tablespoon of Greek spice
1/4 teaspoon of salt and pepper
1 garlic clove
3 garlic cloves, peeled
1/2 cup of fat free mayonnaise
1/4 teaspoon crushed red pepper
1/4 teaspoon of salt
1 (8 ounce) jar of roasted red peppers
Directions
Preheat oven to 425 degrees F. Cut off the stem of the artichoke and about 1 inch of the top. Then carefully chop off the sharp ends of each leaf. Liberally add salt, pepper and Greek spice to the artichoke. Be sure to rub it into the leaves. Place garlic clove into the center of the artichoke. Pour olive oil onto the inside of the aluminum foil. Carefully wrap up artichoke, sealing the top. Place in a jelly roll pan and bake for about 1 hour and 15 minutes.
While the artichoke bakes, prepare aioli. Place garlic, mayonnaise, crushed red pepper, salt and red peppers in a blender or food processor and process until smooth. Serve with roasted artichokes and enjoy!