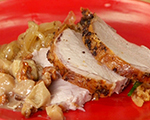 Prep: 15 min
Cook Time: 20 min
Total: 35 min
Serving: 4 Servings
Nothing beats the taste of a roast tenderloin for dinner, especially if it can be made in a snap. Spoon your favorite chutney over these succulent slices of pork.
Ingredients
2 teaspoons extra-virgin olive oil
1 pound pork tenderloin, trimmed
1/4 teaspoon freshly ground pepper
1/8 teaspoon salt
1 jar of chutney
Directions
Preheat the oven to 400 degrees.
Evenly sprinkle the pork tenderloin with salt and pepper.
Heat the oil in a large oven-safe sauté pan over medium-high heat until hot but not smoking, and then add the tenderloin and brown on all sides.
Place the pan with the pork in the oven and cook until an internal thermometer registers 155 degrees, about 15 minutes.
Remove the pork from the oven and the pan and place on a cutting board. Let the pork rest for at least 12 minutes before slicing.
Meanwhile, empty the chutney into a small saucepan and place over low heat, stirring frequently. Spoon warm over the pork slices and serve immediately.