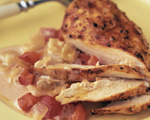 Prep: 20 min
Cook Time: 55 min
Total: 1 hr 15 min
Serving: Serves 4-6
Pork tastes fantastic cooked and served with fruit, especially apples. Use Granny Smith apples and fresh cider from your local orchard and enjoy a classic and satisfying meal.
Ingredients
2 (3/4-pound) pork tenderloins
1 tablespoon olive oil
2 teaspoons unsalted butter
2 (1/2-pound) Granny Smith apples, peeled, cored, and each cut into wedges
1 cup chicken broth
2/3 cup apple cider
1/2 teaspoon arrowroot
1 tablespoon water
2 teaspoons cider vinegar
1/2 teaspoon salt
1/4 teaspoon black pepper
Directions
Preheat the oven to 425 degrees. Place oven rack on upper third of oven.
Rinse tenderloins under cold water and then pat dry with a paper towel.
Heat the olive oil in a large oven safe sauté pan over medium-high heat. Sprinkle tenderloins with salt and pepper and then place in pan. Brown the tenderloins on all sides for approximately 5 minutes.
Transfer your pan to the oven and roast the tenderloins for about 15 minutes until an internal thermometer reads 155 degrees.
Remove tenderloin from the oven, cover loosely and let sit for about 20 minutes before slicing into 1/-inch thick slices.
Using the same sauté pan, heat the butter over medium-high heat and sauté the apples for 7 minutes. Remove apples and set aside.
Add the chicken broth and the cider to the pan, scraping up any bits stuck to the bottom of the pan. Bring the mixture to a boil.
In a small bowl, whisk the arrowroot and water together until dissolved. Pour that arrowroot mixture into the sauté pan and continue to boil, stirring occasionally, until sauce is thick, approximately 5 minutes.
Take the sauce off of the heat and pour in the vinegar and sprinkle with salt and pepper.
Place tenderloin slices on a platter with the apples and drizzle on the sauce.