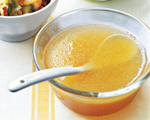 Prep: 15 min
Cook Time: 30 min
Total: 45 min
Serving: Makes 4 Servings
Roasting the lemons bring out new depths of flavors and undertones of sweetness compared to raw lemons used in classic vinaigrettes.
Ingredients
2 lemons
1-1/2 teaspoons olive oil
1 tablespoon honey
1/2 teaspoon sea salt
3 tablespoons extra-virgin olive oil
Directions
Preheat the oven to 400 degrees.
Cut the lemons crosswise and remove the seeds then place, cut side down, into a baking dish.
Drizzle the lemons with oil and roast for about 30 minutes or until just golden.
In a small bowl, juice the lemons and remove their pulp. In addition, add any juices from the baking dish into the bowl and mix to combine.
Add the honey and the salt to the bowl, whisk to combine, and then slowly pour in the olive oil, whisking continuously until thickened.