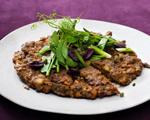 Prep: 5 min
Cook Time: 20 min
Total: 25 min
Serving: 4 Servings
Hash is great on its own but wait until you try it combined with deli roast beef. It will become your new Southern comfort food.
Ingredients
1 medium onion, chopped
1 green bell pepper, seeded and chopped
2 tablespoons vegetable oil
3 cups frozen country-style hash brown potatoes
1/2 pound sliced roast beef, coarsely chopped
1/3 cup heavy cream
Directions
Place the onion and bell pepper in a medium sauté pan over medium-high heat and sauté for 7 minutes.
Sprinkle the onion mixture with some salt and pepper, and then add the potatoes and cook, stirring frequently, for 7 minutes.
Add the roast beef and the cream, and form the mixture into a cake using a spatula.
Continue to cook the hash for 5 minutes, or until brown and crispy, and then flip onto a plate and serve warm.