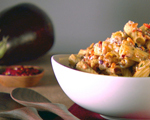 Prep: 40 min
Cook Time: 10 min
Total: 50 min
Serving: 6 Servings
Rigatoni is the perfect shaped pasta to hold thick and chunky sauces like this one. This zesty combination offers an explosion of flavors with a unique blend of sun-dried tomatoes, eggplant, spinach, pine nuts and ample garlic.
Ingredients
1/2 cup boiling water
14 sun-dried tomato halves (not oil-packed)
4 teaspoons olive oil
1 (1-1/2 pound) eggplant, peeled and cut into 1/2-inch cubes
5 garlic cloves, minced
1 (10-ounce) package frozen chopped spinach, thawed and squeezed dry
2 medium tomatoes, chopped
1 cup vegetable broth
3 tablespoons lightly toasted pine nuts
2 tablespoons minced fresh basil or 2 teaspoons dried basil
Freshly ground pepper
4-1/2 cups hot cooked rigatoni
1/4 cup grated Parmesan cheese
Directions
Place sun-dried tomatoes in a heatproof bowl. Pour in boiling water and set aside for 20 minutes until tomatoes soften.
In a large sauté pan, heat the oil and sauté the eggplant until softened, about 5 minutes. Add the garlic and continue to sauté, stirring constantly, until fragrant, approximately 1 minute.
Add the spinach, chopped tomatoes, vegetable broth, pine nuts, basil, pepper and sun-dried tomatoes with their liquid. Bring the mixture to a boil, reduce heat and simmer, covered, for about 5 minutes, or until vegetables are tender.
Put the rigatoni in a large serving bowl, add the eggplant mixture and toss well. Serve immediately, sprinkled with cheese.