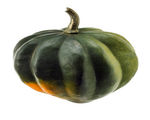 Prep: 15 min
Cook Time: 35 min
Total: 50 min
Serving: 2
Baked squash filled with creamy honey-kissed ricotta and toasted nuts becomes comfort food on a cold blustery day. Savor every spoonful as a midday meal or as a warm end to a long afternoon.
Ingredients
1 (1 ½ pound) acorn squash
1 teaspoon olive oil
½ teaspoon cinnamon
¼ teaspoon ground clove
¼ teaspoon ground ginger
¼ teaspoon cardamom
Pinch salt
1 cup part-skim ricotta cheese
1 tablespoon honey
1 teaspoon dried oregano
¼ cup toasted hazelnuts*, chopped
2 tablespoons honey-toasted wheat germ
Black pepper to taste
Directions
Preheat oven to 375 degrees F.
With a sharp knife, carefully cut acorn squash in half lengthwise and scoop out seeds with a serrated or regular spoon.
Rub flesh with olive oil and sprinkle with spices. Wrap each half in foil and place on a baking sheet. Bake in oven for 30 minutes or until flesh is fork tender.
Remove from oven and unwrap squash.
Meanwhile, mix ricotta with honey, oregano, and hazelnuts.
Evenly fill baked squash halves with ricotta mixture.
Place squash back in oven for 5 to 10 minutes to warm ricotta.
Remove from oven and sprinkle each half with 1tablespoon wheat germ and season with black pepper. Alternatively, fill squash with ricotta cheese and forgo heating a second time.
Simply sprinkle with wheat germ, season with black pepper and enjoy.
Squash can be cooked a day in advance and reheated with the ricotta filling in 400 degree F. oven for 10 to 15 minutes or until heated through.