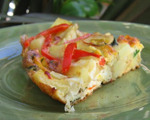 Prep: 30 min
Cook Time: 35 min
Total: 1 hr 5 min
Serving: 6
Ricotta Frittata is a great brunch dish. Cherry tomatoes and peppers add a bit of Italian flair.
Ingredients
12 large eggs
1/3 cup heavy cream
1 1/3 cups cubed day old bread, crusts removed
3 tablespoons olive oil, divided
1 onion, cut into 1/2 inch thick strips
1 each red and green bell peppers, cored, seed and cut into 1/4 inch slices
1/2 cup cherry tomatoes, halved
1 tablespoon unsalted butter
1/3 cup fresh ricotta
Directions
Preheat oven to 350 degrees F.In a large bowl, beat eggs, heavy cream, and salt and pepper to taste. Add bread cubes; let soak until softened, about 15 minutes.
Heat 2 tablespoons olive oil in a 10 inch cast iron skillet over medium heat. Add onion; cook until wilted, about 4 minutes. Add peppers; cook, stirring until crisp-tender, about 5 minutes. Season with salt and pepper. Stir in tomatoes. Add butter and remaining oil to skillet; heat until foaming. Pour egg and bread mixture into pan; cook over medium heat without stirring.
Meanwhile, add ricotta by tablespoonfuls, forming little pockets on top. Continue cooking until bottom is lightly browned, about 5 minutes.
Once bottom crust has formed, transfer skillet to preheated oven; bake until center is firm to touch about 15-20 minutes. Let frittata stand at room temperature for 15 minutes before serving.