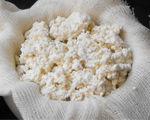 Prep: 1 hr 30 min
Cook Time: 7 min
Total: 1 hr 37 min
Serving: 4 Servings
Making your own ricotta is not only economical, but the difference in taste makes it worth all the extra effort.
Ingredients
2 quarts whole milk
1 cup heavy cream
1/2 teaspoon salt
3 tablespoons fresh lemon juice
Directions
Cover a large sieve with fine mesh cheesecloth and place the sieve over a large bowl.
In a large pot, bring the milk, cream and salt to a boil over medium-high heat, stirring frequently so milk does not get scorched or stick.
Reduce the heat to low and pour in the lemon juice. Simmer the mixture for 2 minutes stirring constantly.
When the mixture curdles, pour through the prepared sieve and allow to drain for 1-1/2 hours.
Transfer the ricotta to a bowl and discard the liquid. Store the cheese, covered, for up to 2 days in the refrigerator.