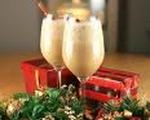 Prep: 15 min
Cook Time: –
Total: 15 min
Serving: 25
Rich Eggnog is a classic favorite flavored with rum.
Ingredients
12 eggs
1/2 cup sugar
4 cups cold milk
1/2 cup bourbon
12 1/4 cups light rum
1/4 teaspoon salt
2 cups whipping cream
ground nutmeg
Directions
Separate eggs. In small bowl, beat egg yolks. Gradually add sugar and beat until thick and lemon colored. Add milk, bourbon, rum, and salt. Whip cream.
In large bowl, beat egg whites until stiff peaks form. Fold egg yolk mixture and whipped cream into egg whites. Serve eggnog immediately in chilled punch bowl. Sprinkle with nutmeg.