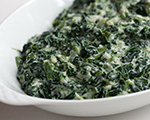 Prep: 20 min
Cook Time: 12 min
Total: 32 min
Serving: 4 Servings
This delicious side dish is a truly decadent and rich accompaniment to a dinner party entrée.
Ingredients
2 10-ounce bags spinach (large stems removed)
1/2 cup chopped onion
3 cloves garlic, minced
2 tablespoons butter
1 cup whipping cream
1/2 teaspoons freshly ground black pepper
1/4 teaspoons salt
1/4 teaspoons ground nutmeg
Directions
Bring a large pot of salted water to boil over high heat, and then add the spinach. Boil for 1 minute, drain and then squeeze out any additional liquid.
Pat the spinach dry with paper towels and then coarsely chop into pieces.
In a large sauté pan, heat the butter until bubbly and then sauté the onion and the garlic for 5 minutes.
Pour in the cream and then sprinkle the mixture with salt, pepper and the nutmeg. Boil the mixture for about 1 minute until it begins to thicken.
Stir in the spinach and reduce heat to medium-low. Simmer for 2 minutes and then season to taste with salt and pepper. Serve immediately.