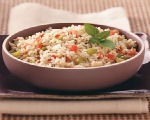 Prep: 10 min
Cook Time: 20 min
Total: 30 min
Serving: Serves 6 people
Rice Salad with Peas and Tomatoes, a refreshing salad recipe, is served chilled and makes a colorful side dish to any meal.
Ingredients
1 cup of green peas, cooked
2 tomatoes, peeled, seeded and chopped
2 cups of hot, cooked rice
3/4 cup of olive oil
3 tablespoons of vinegar
Salt and freshly ground pepper to taste
1/3 cup of fresh parsley, finely chopped
1 tablespoon of fresh basil, finely chopped
1/4 cup of grated parmesan cheese
Directions
Mix the cooked peas and tomatoes together.
While the rice is hot from cooking, toss it with the olive oil, vinegar and salt and pepper. Cool.
Add the peas, tomatoes, parsley and basil mixture and parmesan cheese. Mix well and chill before serving.