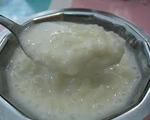 Prep: 30 min
Cook Time: 25 min
Total: 55 min
Serving: 4-6
Rice Pudding, studded with plump raisins, is the ultimate comfort food.
Ingredients
1 1/2 cup cooked rice
2 cups milk
1/3 cup sugar
1/4 teaspoon salt
1 egg, beaten
2/3 cup raisins
1 tablespoon butter
1/2 teaspoon vanilla
Directions
Combine cooked rice, 1 1/2 cup milk, sugar and salt in saucepan.
Cook until thick about 15-20 minutes.
Blend remaining 1/2 cup milk and egg and stir into rice.
Add raisins. Cook 2 minutes longer stirring constantly.
Add butter and vanilla. Stir to combine. Serve warm.