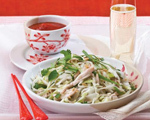 Prep: 15 min
Cook Time: –
Total: 15 min
Serving: 8 servings
An Asian-inspired rice-noodle and chicken salad dish made with crisp, clean flavors and a wide array of fresh ingredients.
Ingredients
1/2 pound dried rice noodles, about 1/4 inch wide
3/4 cup fresh grapefruit juice
2 large garlic cloves, minced
2 tablespoons sugar
1/4 cup plus 1 tablespoon asian fish sauce
1/2 pound cabbage, finely shredded 4 cups
3 large scallions, thinly sliced
1/2 pound cooked chicken, cut into long strips
1/2 cup chopped fresh cilantro
1/4 cup chopped fresh mint
Directions
Prepare the rice noodles according to package directions, drain extremely well and then place into a shallow bowl. Add the cabbage and scallions to the bowl and then set aside.
Put the grapefruit juice, garlic, sugar and fish sauce in a small bowl and whisk vigorously until the sugar has completely dissolved.
Pour the dressing over the noodle mixture and toss to combine. Add the chicken, cilantro and mint to the bowl and toss once again to mix. Serve immediately.