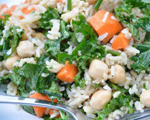 Prep: 10 min
Cook Time: –
Total: 10 min
Serving: 6 Servings
Besides being extremely nutritious, this salad is also a delicious blend of flavors and various textures. Try using long grain brown rice for extra fiber and nutrients.
Ingredients
4 cups cooked long grain brown rice
2 cups cooked garbanzo beans
2 cups chopped raw kale
2 large carrots, diced
handful of chopped fresh chives or green onions
handful of fresh basil leaves, chiffonade
1/4 cup extra virgin olive oil
1/2 lemon, juiced
sea salt and freshly ground black pepper, to taste
Directions
Place the rice, garbanzo beans, kale, carrots, chives and basil into a salad bowl and toss well to combine. Drizzle the salad with the olive oil and the lemon juice, and then sprinkle with a few pinches of salt and fresh pepper. Toss gently to combine and then serve.