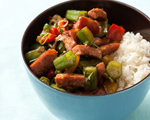 Prep: 10 min
Cook Time: 20 min
Total: 30 min
Serving: 4 Servings
This is a simplified and quicker version of the classic New Orleans dish called 'Dirty Rice.' To reduce preparation and cook times, frozen peppers and okra are used instead of the fresh variety. Wonderful served with a bottle of Beaujolais.
Ingredients
1 14-16 ounce pork or turkey kielbasa, quartered lengthwise and cut crosswise into ½-inch pieces
1/2 teaspoon salt
2 tablespoons vegetable oil
1 10 ounce frozen cut okra, thawed in microwave
1 medium onion, chopped
1 12 ounce bag frozen bell peppers
2 garlic cloves, finely chopped
3 scallions, thinly sliced
4 servings cooked long grain rice
Directions
Divide the cooked rice between 4 serving bowls.
Place 1 tablespoon of oil into a large sauté pan over medium-high heat. Once it begins to shimmer, add the kielbasa and cook for 3 minutes then remove and divide between the 4 bowls of rice.
Add the remaining oil to the pan and sauté the onions, bell peppers, garlic, and salt over medium heat for 7 minutes. Stir in the okra, kielbasa and scallions and cook the mixture for an additional 7 minutes or until heated through. Transfer the mixture to the bowls and serve immediately.