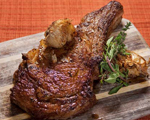 Prep: 10 min
Cook Time: 8 min
Total: 18 min
Serving: 2 Servings
The secret to cooking a great Ribeye steak is hidden in the seasonings sprinkled on the beef prior to cooking.
Ingredients
1 teaspoon salt
1/2 teaspoon black pepper
1/2 teaspoon white pepper
1/4 teaspoon paprika powder
1 teaspoon chopped thyme
1/4 teaspoon garlic powder
1 10-inch ribeye steak, about 1-inch thick with bone in
2 tablespoons olive oil
1 head of garlic cut in half
Directions
Preheat the oven to 350 degrees.
Place a skillet or sauté pan over high heat.
In a small bowl, place the salt, pepper, paprika, thyme and garlic powder and mix to combine.
When the skillet becomes very hot, brush both sides of the steaks with the olive oil, and then sprinkle both sides with the seasoning mixture.
Put the steaks in the pan with the garlic and cook for 4 minutes on each side.
Place the skillet into the oven and cook the steaks for 4 minutes.
Remove the steaks from the oven, let rest for 5 minutes and then serve.