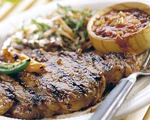 Prep: 10 min
Cook Time: 35 min
Total: 45 min
Serving: 4 Servings
Give your grilled steaks a kick of hot smoky flavor with this chipotle pepper sauce.
Ingredients
1/3 cup sugar
1 medium onions, finely chopped
2 cloves garlic, minced
1-1/2 cups light beer or water
1 6-ounce can tomato paste
1/4 cup Worcestershire sauce
1/4 cup vinegar
2 tablespoons purchased habanero hot pepper sauce
1 tablespoon chopped canned chipotle peppers in adobo sauce
4 10-ounce beef rib-eye or sirloin strip steaks, cut 1 inch thick
Directions
Place the sugar in a medium-sized saucepan over medium-high heat; do not stir.
Once the sugar begins to melt, reduce the heat to low and stir in the onion and the garlic. Cook the mixture for 5 minutes.
In the meantime, place the beer to boil in a small skillet.
Slowly add the boiling beer to the sugar mixture, whisking continuously to prevent sticking, and then add the tomato paste, Worcestershire sauce, vinegar, habanero sauce, chipotle peppers, and salt.
Bring the mixture to a boil and then reduce the heat to medium-low and simmer, uncovered for 20 minutes.
In the meantime, prepare the grill on medium heat after lightly oiling the grill rack to prevent sticking.
Place the steaks on the grill and cook until desired doneness, making sure to brush the steaks with the chipotle pepper sauce during the last few minutes of cooking.
Serve steaks with a side of extra sauce.