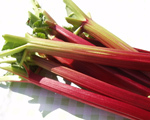 Prep: 10 min
Cook Time: 30 min
Total: 40 min
Serving: N/A
When spring comes around, make your own rhubarb simple syrup by boiling a bunch of fresh rhubarb stalks with water and sugar. Use this flavorful syrup to sweeten and brighten your favorite cocktails and beverages.
Ingredients
1 bunch rhubarb stalks, cut into chunks
2 cups water
1 cup sugar
Directions
Place the water and the sugar into a large saucepan and bring to a boil over high heat. Stir the mixture constantly until the sugar has completely dissolved and then add the rhubarb.
Reduce the heat to low and simmer the mixture for 20 minutes. Use cheesecloth to strain the mixture and then place in an airtight jar for up to 2 weeks in the refrigerator.