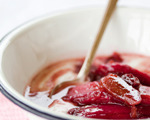 Prep: 10 min
Cook Time: 25 min
Total: 35 min
Serving: Serves 4-6
When rhubarb makes its appearance at your local farmer's market in the spring, grab a bunch and make this delicious compote that can be topped on yogurt, ice cream and even savory pork and poultry dishes.
Ingredients
1 pound rhubarb, cut into 1/2 inch slices, about 3 inches long
1/4 cup cherry jam
1/4 cup Crème de Cassis
1 tablespoon sugar
2 dates, pitted and chopped into thin slivers
1 tablespoon butter, chopped into small pieces
1 pinch salt
Directions
Preheat your oven to 400 degrees Fahrenheit.
Place the jam, Crème de Cassis, sugar and the dates into a bowl and mix well to combine. Add the slices of rhubarb to the bowl and toss well to coat.
Transfer the rhubarb mixture to a 9x19-inch baking dish and top with pieces of the butter and a pinch of salt. Cover the dish with aluminum foil and then place in the oven for 25 minutes.