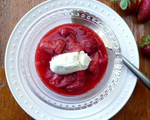 Prep: 1 hr
Cook Time: 11 min
Total: 1 hr 11 min
Serving: Serves 4-6
Once rhubarb is in season, fresh strawberries are not far behind. Try this delicious seasonal dessert served over angel food cake and garnished with a dollop of whipped cream and a sprig of mint.
Ingredients
3 cups 1/2-inch-wide pieces fresh rhubarb (cut from about 1 pound)
3/4 cup sugar
1/4 cup water
1, 1-pint container fresh strawberries, hulled, halved
2 tablespoons chopped fresh mint
Whipped cream and mint sprigs to garnish
Directions
In a large sauce pan, place the rhubarb, sugar and 1/4 cup of water over medium heat and simmer for 3 minutes.
Reduce heat to medium-low and continue to simmer the mixture for about 8 minutes, until rhubarb is tender yet soft.
Remove the pan from the heat and add the strawberries, stirring gently.
Empty the mixture into a bowl and fold in the mint. Place in the refrigerator for about 1 hour until chilled.
Divide into bowls, and top each serving with a dollop of whipped cream and garnish with a sprig of mint.