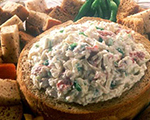 Prep: 2 hr 20 min
Cook Time: –
Total: 2 hr 20 min
Serving: 16 (1/2-cup) servings
If you like the flavor of deli-style Reuben sandwiches, then you'll love the taste of this dip. Use a round loaf of pumpernickel, rye or sourdough bread for the bread bowl.
Ingredients
2 cups sour cream
1/2 cup mayonnaise
1/4 cup sliced green onions
8 ounces (2 cups) Swiss cheese, shredded
8 ounces sliced deli corned beef, cut into bite-sized pieces
1 (8-ounce) can sauerkraut, rinsed, drained
2 teaspoons caraway seed
Directions
Place the sour cream, mayonnaise, onions, cheese, corned beef, sauerkraut and caraway seeds in a large bowl, and stir until thoroughly blended.
Cover the bowl and place in the refrigerator for 2 hours to allow flavors to blend.
Using a sharp knife, cut off the top of the bread and then remove the center leaving a 1-inch shell. Cut the removed bread into pieces.
Fill the shell with the dip mixture and serve with the bread pieces.