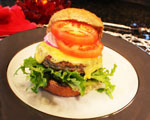 Prep: 5 min
Cook Time: 5 min
Total: 10 min
Serving: 4 people
This regular cheeseburger recipe is a delicious classic.
Ingredients
1 lb. ground beef
2 cloves garlic, minced
2 Tbsp. extra virgin olive oil
1 tsp. salt
1/2 tsp. ground black pepper
1/2 tsp. dried basil leaves
4 slices KRAFT Big Slice Sharp Cheddar Cheese
4 hamburger buns
Directions
Heat grill to high heat.
Mix all ingredients except buns; shape into 4 patties.
Grill 3 to 5 min. on each side or until done (160ºF), topping with cheese for the last minute.
Serve in buns.
Nutrition Information Per Serving: 490 calories, 30g total fat, 12g saturated fat, 1.5g trans fat, 95mg cholesterol, 1000mg sodium, 22g carbohydrate, 1g dietary fiber, 3g sugars, 29g protein, 6%DV vitamin A, 0%DV vitamin C, 25%DV calcium, 20%DV iron.