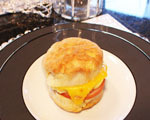 Prep: –
Cook Time: 4 min
Total: 4 min
Serving: 1 person
This breakfast sandwich will get you going in the morning with an egg, cheese and ham.
Ingredients
1 egg
dash salt
dash pepper
1Tbsp. butter
1 biscuit or croissant, split, toasted
2 oz. OSCAR MAYER CARVING BOARD Slow Cooked Ham
1 KRAFT Deli Fresh Mild Cheddar Cheese Slice
Directions
Whisk egg, salt and pepper until well blended.
Heat medium nonstick skillet sprayed with cooking spray on medium heat.
Add egg; cook 3 to 4 min. (Do not stir.)
Carefully flip egg; cook 30 sec. or until set.
Spread butter onto cut sides of biscuit; fill with egg, ham and cheese.
Nutrition Information Per Serving: 480 calories, 31g total fat, 13g saturated fat, 4.5g polyunsaturated fat, 10g monounsaturated fat, 285mg cholesterol, 1350mg sodium, 26g carbohydrate, less than 1g dietary fiber, 2g sugars, 25g protein, 15%DV vitamin A, 20%DV vitamin C, 15%DV calcium, 15%DV iron.