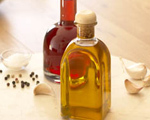 Prep: 5 min
Cook Time: –
Total: 5 min
Serving: 4 Servings
Use your favorite red wine vinegar to make this all-purpose salad dressing which also doubles as a full-bodied and robust marinade for just about any cut of beef.
Ingredients
8 tablespoons extra-virgin olive oil
4 tablespoons red wine vinegar
1/2 teaspoon dried thyme
1/2 teaspoon dried oregano
1/4 teaspoon dried mustard
1/4 teaspoon crushed red chile flakes
1 clove garlic
Sea salt and freshly ground black pepper
Directions
Crush the garlic, sprinkle with a pinch of salt and then mash into a paste.
Place the oil, vinegar, thyme, oregano, mustard, chile flakes, and garlic in a bowl and whisk vigorously until thoroughly blended. Season with a few pinches of salt and pepper and then serve immediately.