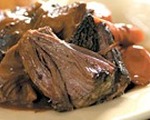 Prep: 20 min
Cook Time: 2 hr
Total: 2 hr 20 min
Serving: Serves 6 - 8 people
Looking for a slow-roasted dinner that can cook itself? Look no further than this succulent, melt-in-your-mouth pot roast. This delicious, heart-healthy and savory pot roast is slow cooked to perfection in a bath of dry red wine and vegetables. The gravy is so good, you'll want to drink it with a straw. (Not like we did, or anything. We'll never tell.)
Ingredients
1/2 cup beef broth
1 cup mushrooms
1 (4 pound) boneless chuck roast
2 tablespoons olive oil
1 large onion, chopped
6 garlic cloves, peeled
2 large carrots, cut into quarters
28 ounces stewed tomatoes
Liberal dashes salt and pepper
1-1/2 cups dry red wine (like Merlot)
Fresh oregano
Directions
Preheat your oven to 300 degrees F. Liberally season the beef with salt and pepper. Heat the olive oil in a large pan over medium-high heat. Add the meat to the pan and cook until browned on all sides. Remove from the pan and set aside.
Add the onions, carrots, garlic and mushrooms to the roast drippings in the same pan. Cook over medium heat until they start to brown, about 10 minutes. Add the stewed tomatoes and smash into the pan so they break up.
Remove the pan from the heat. Transfer the meat back to the pan. Cover with the broth, red wine and additional salt and pepper. Add in the fresh oregano. Cover the meat and place in the oven.
Cook for about 1 - 2 hours, or until tender. Cut into 1/2-inch thick slices and serve with pan drippings.