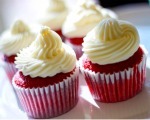 Prep: 15 min
Cook Time: 20 min
Total: 35 min
Serving: Makes 30 mini cupcakes
Along with being scrumptious, Red Velvet Cupcakes are the perfect dessert for your holiday entertaining.
Ingredients
2-1/2 cups all-purpose flour
2/3 cup unsweetened cocoa powder
1 teaspoon baking soda
1/2 teaspoon salt
1 cup (2 sticks) unsalted butter, softened
2 cups sugar
4 eggs
1 cup sour cream
1/2 cup milk
1-1/2 ounces red food coloring
1 teaspoon vanilla extract
Directions
Preheat oven to 350 degrees. Mix flour, cocoa powder, baking soda and salt in a medium bowl. Beat butter and sugar with electric mixer on medium speed for 3 to 5 minutes; beat in eggs, one at a time; mix in sour cream, milk, food coloring, and vanilla; and gradually beat in flour mixture until just blended.
Spoon batter into 30 mini cupcake liners fit into a mini pan. Fill liners 2/3 full.
Bake 20 minutes and cool for at least 5 minutes. Top with your favorite vanilla or cream cheese frosting. Garnish with dusted cocoa powder, crushed candy canes or chocolate bits.