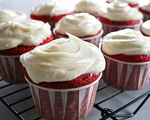 Prep: 10 min
Cook Time: 40 min
Total: 50 min
Serving: 2 dozen cupcakes
Red velvet cakes actually get a lot of their red hue from the natural reaction that occurs between the cocoa and the acids in the buttermilk and vinegar. Dust these cupcakes with powdered sugar or frost with white chocolate frosting.
Ingredients
1/3 cup cocoa
3 tablespoons red food coloring (optional)
1-1/2 teaspoons vanilla extract
1/2 cup butter, softened
1-1/2 cups sugar
4 egg yolks
1 cup buttermilk
1 teaspoon salt
2-1/4 cups sifted cake flour
1 teaspoon baking soda
1 teaspoon white vinegar
Directions
Preheat oven to 350 degrees.
Place baking papers in a 12-cup cupcake tin and set aside.
In a small bowl, mix the cocoa, food coloring and vanilla together and set aside.
In a large bowl, cream the butter and sugar and then add the yolks one at a time. Slowly add the cocoa mixture continuing to beat until well combined.
Mix together the buttermilk and salt and add it to the mixture in thirds, switching with the flour. Then, combine the baking soda and the vinegar and blend well into batter.
Spoon three tablespoons of batter into each lined cupcake tin. Bake cupcakes for approximately 15 minutes or until a toothpick inserted in the center of a cupcake comes out clean.
Cool cupcakes for 15 minutes before removing from tin. Allow to cool completely before frosting.