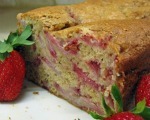 Prep: 15 min
Cook Time: 1 hr
Total: 1 hr 15 min
Serving: 12-16 servings
A great, tasty red strawberry loaf bread.
Ingredients
3 cups flour
1 teaspoon baking soda
1 teaspoon ground cinnamon
2 cups sugar
2 (10 ounce) packages frozen strawberries, thawed
1 1/2 cups canola oil
4 eggs, beaten
1 teaspoon red food coloring
Directions
Preheat the oven to 350 degrees Fahrenheit. Grease and flour 2 loaf pans.
Mix together the flour, baking soda, cinnamon, 1/2 teaspoon salt and sugar. Press a cavern into the center and add the strawberries, eggs, and oil. Mix until well combined. Stir in the food coloring.
Pour into the prepared pans. Bake for 1 hour.