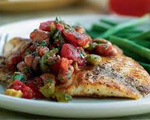 Prep: 25 min
Cook Time: 25 min
Total: 50 min
Serving: 4 Servings
Red Snapper is a popular white fish due to its sweet and nutty flavor that pairs well with both spicy and subtle herbs. Sever this dish with a green salad and herbed fingerling potatoes.
Ingredients
4 Red Snapper filets, 7 ounces each
Vegetable oil for frying
1, 4 ounce can whole Tomatoes, drained
1 large chopped Onion
1 clove minced Garlic
1 tablespoon chopped Parsley
2 tablespoons Butter
Salt and freshly ground pepper to taste
Flour to dust fish
For the sauce:
1-1/2 cups Mayonnaise
2 tablespoons Dill Weed
1 tablespoon chopped Parsley
Grated Parmesan Cheese
1tablespoon of Paprika
Directions
In a small bowl, mix together the dill weed, parsley and mayonnaise and refrigerate.
Sprinkle the Red Snappers with salt and pepper, and then dust with flour.
In a large sauté pan, heat the oil over medium-high heat until hot but not smoking. Sauté the fish until golden, about 4 minutes on each side. Set aside and keep warm.
In another saucepan, melt the butter and sauté the onion over medium-high heat until transparent and soft. Add the tomatoes, garlic, parsley, salt and pepper and cook for 10 minutes.
Prepare the oven broiler.
Put the fish in a large baking dish and pour over the tomato mixture. Add the mayonnaise sauce and then sprinkle with Parmesan cheese and a dusting of paprika. Place the pan under the broiler for a few minutes until the sauce starts to bubble. Serve immediately.