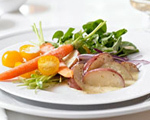 Prep: 15 min
Cook Time: 30 min
Total: 45 min
Serving: Makes 12 Servings
A delicious side dish to accompany roast tenderloin or chicken, these creamy mustard potatoes also pair beautifully with lamb.
Ingredients
3 pounds small round red potatoes, scrubbed and cut in thin wedges
2 tablespoons olive oil plus 2/3 cup
2/3 cup white wine vinegar
1/2 cup light mayonnaise
1/4 cup hot mustard
1/2 teaspoon salt
1/4 teaspoon pepper
Directions
Preheat your oven to 425 degrees.
Place the potatoes in a large bowl and toss with the 2 tablespoons of olive oil and a few pinches of salt and pepper.
Transfer to a roasting pan and place in the oven for 30 minutes.
Remove the potatoes from the oven, cool and place into a serving bowl.
In the meantime, place the vinegar, 2/3 cup olive oil, mayonnaise, mustard, 1/2 teaspoon salt and 1/4 teaspoon pepper into a blender and process unit thoroughly combined.
Pour the mustard mixture over the potatoes and toss to coat. Serve immediately.