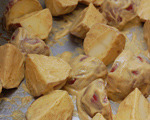 Prep: 5 min
Cook Time: –
Total: 5 min
Serving: 2 Servings
This unbelievably delicious Indian side dish is composed of red potatoes coated in a thick yogurt Tandoori sauce. Serve it as an accompaniment to grilled meats and poultry.
Ingredients
6 small red potatoes, washed and quartered
1/2 cup plain Greek yogurt
1 tablespoon yellow curry powder
1/2 teaspoon coarse salt
1 teaspoon ground cumin
1 teaspoon ground coriander
1/2 teaspoon ground cinnamon
1/2 teaspoon paprika
1/2 teaspoon turmeric
1 teaspoon chili powder
8 turns fresh ground black pepper
1 tablespoon sweetened lime juice
1 tablespoon finely-minced fresh ginger
1 tablespoon finely-minced garlic
Directions
Place all of the ingredients into a large Ziploc bag and seal well.
Massage the bag to combine all of the ingredients, and then set aside for 30 minutes to allow flavors to blend.
Preheat the oven to 400 degrees and then line a baking sheet with foil.
Empty the contents of the Ziploc bag onto the prepared baking sheet and then place in the oven for 40 minutes, turning the potatoes after 20 minutes of roasting; serve immediately.