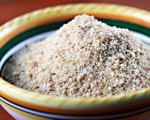 Prep: 10 min
Cook Time: 16 min
Total: 26 min
Serving: 4 Servings
These spicy breadcrumbs made with red pepper and garlic can add a punch of flavor to an otherwise bland dish.
Ingredients
3 tablespoons
1cup panko breadcrumbs
2 medium cloves of garlic, peeled
a pinch of dried red pepper flakes
2 teaspoons chopped flat-leaf parsley
2 tablespoons finely grated Parmegiano reggiano cheese
Directions
Place a large sauté pan over medium heat and add the oil. When the oil begins to shimmer, add the garlic and sauté for 2-1/2 minutes.
Stir in the breadcrumbs and cook over high heat until toasted and golden brown in color.
Remove the pan from the heat and add a few pinches of salt and pepper, the parsley and the cheese. Toss well to combine.