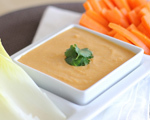 Prep: 25 min
Cook Time: 4 min
Total: 29 min
Serving: Serves 4
It's easy to roast garlic; just slice off the top 1/4 of a head of garlic, drizzle with olive oil and salt, wrap in aluminum foil and roast at 375 for 45 minutes. The soft cloves will squeeze right out of their casing after being cooked.
Ingredients
1 cup dry red lentils
2 cups water
6 cloves roasted garlic
juice from1/2 a medium sized lemon
2 tablespoons olive oil
1-1/2 teaspoons cumin
1 teaspoon chili powder
2 teaspoons salt
Directions
Place the lentils into a pot, cover with water and bring to a boil. Cook the lentil for 4 minutes, remove from the heat, cover and let stand for 15 minutes. Drain the lentils but retain the cooking liquid in a bowl.
Put the cooked lentils, roasted garlic, lemon juice, cumin, chili powder and salt into a food processor and process until the mixture is smooth and creamy. To thin dip to desired consistency, add some of the reserved cooking liquid and blend until reaching preferred thickness.