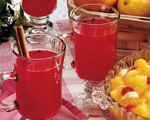 Prep: 5 min
Cook Time: 20 min
Total: 25 min
Serving: 8 servings
The secret ingredient in this warm and spicy drink is red-hot candy! A great Valentine's Day beverage, garnish with cinnamon sticks.
Ingredients
2 cups fresh or frozen cranberries
6 cups water, divided
1 cup sugar
1/4 cup red-hot candiesv
7 whole cloves
1/2 cup orange juice
1/4 cup lemon juice
Directions
Put the cranberries in a large saucepan over medium heat along with 2 cups of water, and cook until the cranberries pop.
Strain the mixture and set aside.
Put the sugar, candies, cloves and remaining water into another saucepan and place over medium heat, stirring until the candies have dissolved.
Pour in the orange juice, lemon juice and the cranberry juice mixture; stir until heated through.
Remove and discard the cloves from the mixture and pour into glasses. Serve immediately.