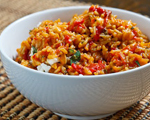 Prep: 20 min
Cook Time: 20 min
Total: 40 min
Serving: Serves 2
This rice makes a statement with both its flavor and its vibrant colors from the red onion, red pepper and tomatoes.
Ingredients
3/4 cup basmati rice
2 tablespoons peanut oil
1 small red onion, chopped
1 red pepper, seeded and chopped
8 ounce cherry tomatoes, halved
2 eggs, beaten
sea salt and freshly ground black pepper
Directions
Wash and rinse the rice several times in cold water, drain well.
In a large pot, bring 1-1/2 cups of water to boil. Add the rice, reduce the heat to medium-low, cover and cook for about 10 minutes, or until rice is tender.
Meanwhile, heat the oil in a wok or sauté pan until very hot. Add the onion and the pepper; stir-fry for about 3 minutes. Drop in the cherry tomatoes and continue to stir-fry for an additional 2 minutes.
Pour the eggs into the pan and let sit for 30 seconds without stirring, then using a spatula, break egg into pieces.
Add rice to the pan and stir-fry with the vegetables and egg for 3 minutes. Sprinkle fired rice with salt and pepper and serve immediately.