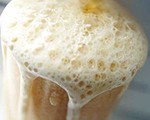 Prep: 20 min
Cook Time: 10 min
Total: 30 min
Serving: 1 Serving
Make this refreshing and robust flavored beverage from scratch to experience the true taste of authentic root beer.
Ingredients
2 teaspoons sarsaparilla root
1 teaspoon licorice root
1 teaspoon wintergreen leaves
1 teaspoon stevia leaves
1/2 tsp cinnamon bark
2 cups water
1 quart carbonated water
Directions
Place all the herbs in a medium saucepan and bring to a simmer over medium-high heat.
Simmer the mixture for 10 minutes and then cover the pan, remove from heat and allow to cool.
Using a sieve, strain out the herbs, discard, and then add the carbonated water.